Palm Springs, CA - Alfred DiMora of DiMora Motorcar provides sponsorship for Bernard Juchli's racing team. "Being a car enthusiast myself and creating the world's most powerful sedan, the $2 million, V16 Natalia, I wanted to lend our support to Bernard's racing efforts," said Alfred. "Bernard and I have two things in common: we are both passionate about cars, and both our jobs are a car nut's dream."

Bernard's dream job is to be the General Manager at the Big Dog Garage. This is where you and your crew must find ways to keep over a hundred classic automobiles, nearly that many motorcycles, and perhaps an occasional fire truck, in perfect running condition. The morning may find you programming a CNC milling machine to fabricate a part for a century-old electric car. Your afternoon may be spent on the phone trying to locate tech data for a 60-year-old Rolls-Royce Merlin aircraft engine.

After you solve these problems and countless others, you are likely to get a suggestion from the garage owner in grease-splattered blue jeans: Wouldn't it be fun to take a front-wheel-drive Olds Toronado and convert it to rear-wheel-drive with a thousand-horsepower engine?

A normal response might be to question somebody's sanity or suddenly remember you're late for an appointment across town. But if you are a car nut, a grin will slowly spread across your face as you think about building and driving such a beast. Yeah, that would be fun...

This is the life of Bernard Juchli. The Swiss-born aircraft mechanic and engineer simply loves the opportunity to explore automotive ideas that nobody else has tried. And the garage owner with the wild ideas is another car enthusiast, Jay Leno.

For 20 years, Bernard owned and managed a Jaguar repair and maintenance business in Los Gatos, California. The weekends would find him out on the track racing his 1963 Jaguar XK-E. Competing against Corvettes and GT-350s, Bernard won the B Production class title in 1992, 1993, and 1994.

Jay Leno had a problem with his Jaguar XK120 and turned to Bernard for help. After solving the problem, Bernard and Jay became good friends. It didn't take long for Jay to realize just how great a mechanic Bernard was.

At that time, Jay had a very large collection of outstanding automobiles. But he had most of the maintenance done at other garages. Jay realized that Bernard was the right guy to set up the in-house capability to maintain his diverse assortment of new and vintage cars.

So five years ago, Bernard became the General Manager of the Big Dog Garage. He found other outstanding mechanics to bring on board, and he collected the tools and equipment one would expect to find in an exotic auto shop.

Bernard is always acquiring more state-of-the-art tools and equipment. When he needs to fabricate parts that haven't been made in the past 70 or 80 years, it helps to have a diverse set of tools. It may seem ironic to use 21st century technology to make early 20th century parts, but it works. Henry Ford never considered cutting metal with a computer-controlled stream of extremely high-pressure water; Bernard uses this process all the time.

When the weekend arrives, he and his wife Rosalie like to hitch his trailer behind their 1961 Flxible bus, load up his Cosworth-engine Chevron racecar, and head to the track. There he races in the Vintage Auto Racing Association. And he's a highly competitive driver. "I hate being stuck in traffic, so I stay ahead of the pack where the visibility is better." He finished in the lead often enough to win the open-wheel FA class championship in 2005, and he has been highly competitive this season as well.

So when you come to the track to see Bernard go for the checkered flag, don't be surprised to see his friends from DiMora Motorcar cheering him on. Look for his red and white Number 34 leading the pack at one of these VARA events:

July 15-16, 2006 - The Golden State Classic
California Speedway

September 16-17, 2006 - Oktoberfest
Buttonwillow Raceway Park

October 14-15, 2006 - Jeff Saltman Memorial Race
Las Vegas Motor Speedway

November 11-12, 2006 - Big Bore Bash
Willow Springs International Raceway

For complete information on these races, please visit www.vararacing.com .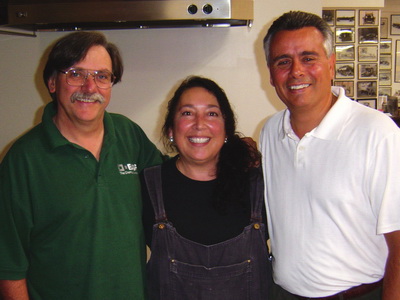 Bernard Juchli, Rosalie Juchli, and Alfred DiMora.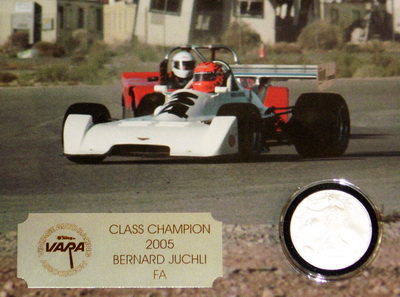 Plaque awarded to Bernard Juchli at the end of the 2005 racing season.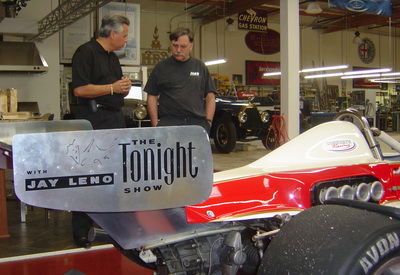 Alfred DiMora and Bernard Juchli discuss modifications done to the Chevron racecar.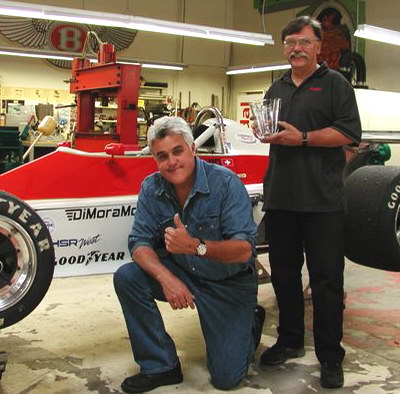 Jay Leno and Bernard Juchli at the Big Dog Garage.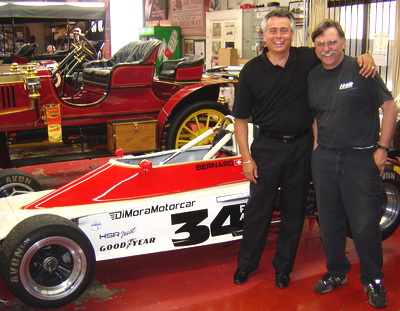 Alfred DiMora and Bernard Juchli celebrate the addition of DiMoraMotorcar to the new paint job on Number 34.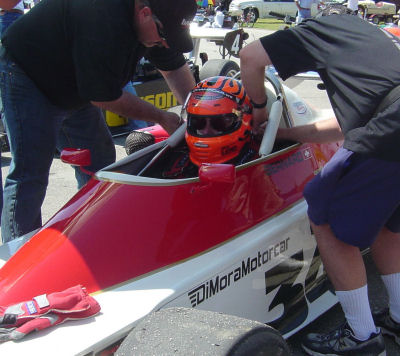 Dave Killackey adjusts Bernard's safety harness prior to his race in the British Extravaganza at Buttonwillow Raceway on April 30.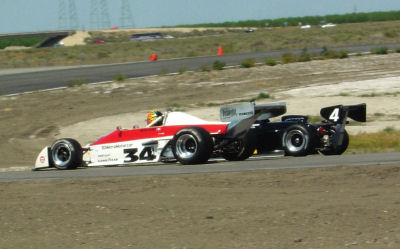 Bernard duels with Dan Longacre going into the hairpin turn at Buttonwillow.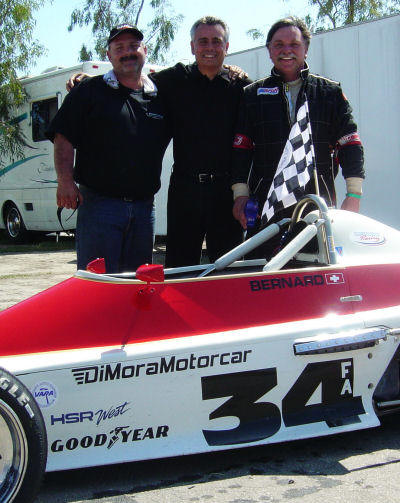 Dave Killackey, Alfred DiMora, and Bernard Juchli celebrate his win in the FA Class at Buttonwillow.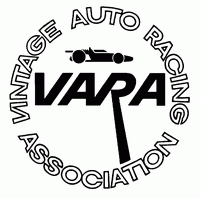 Vintage Auto Racing Association logo.