For a true car guy, one of the greatest jobs on earth has to be Head Honcho at the Big Dog Garage. This is where you and your crew must find ways to keep over a hundred classic automobiles, nearly as many motorcycles, and perhaps an occasional fire truck, in perfect running condition. The morning may find you programming a CNC milling machine to fabricate a part for a century-old electric car. Your afternoon may be spent on the phone trying to locate tech data for a 60-year-old Merlin aircraft engine.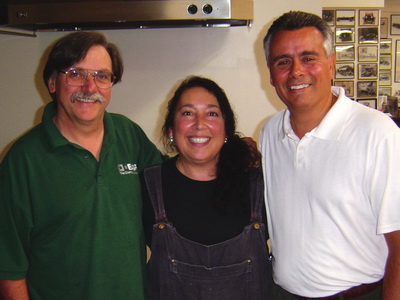 Rosalie Juchli works with Bernard at the Big Dog Garage.
After you solve these problems and countless others, you are likely to get a suggestion from the garage owner in grease-splattered blue jeans: Wouldn't it be fun to take a front-wheel-drive Olds Toronado and convert it to rear-wheel-drive with a thousand horsepower engine? A normal response might be to question somebody's sanity or suddenly remember you're late for an appointment across town. But if you are really a car guy, a grin will slowly grow across your face as you think about driving such a beast. Yeah, that would be fun.
This is the life of Bernard Juchli. And the garage owner with the wild ideas is another true car guy, Jay Leno.
But that's just Bernard's day job. When the weekend comes, he and his wife Rosa like to hitch a trailer behind their 1961 Flxible bus, load up the Cosworth-engine Chevron racecar, and head out to the track. There he races in the Vintage Auto Racing Association. And he's pretty good. He hates being stuck in traffic so he likes to stay in front of the pack. He stayed in front often enough to win the open-wheel FA class championship in 2005, and he has been highly competitive this season as well. That's not bad for a guy with enough mileage to get the geezer discount in many restaurants.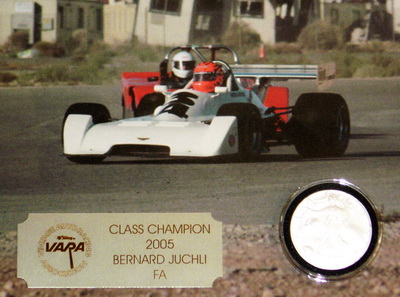 Plaque awarded to Bernard Juchli at the end of the 2005 racing season.
Alfred DiMora of DiMora Motorcar provides sponsorship for Bernard's racing activities. So when you come to the track to see Number 34 go for the checkered flag, don't be surprised to see his friends from DiMora Motorcar cheering him on as well. Look for his red and white car leading the pack at one of these VARA events: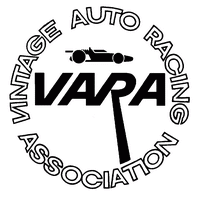 April 29-30, 2006 - British Extravaganza
Buttonwillow Raceway Park
June 3-4, 2006 - Road Races at the Ranch
Spring Mountain Motorsports Ranch
June 24-25, 2006 - Member Appreciation Race
Willow Springs International Raceway
July 15-16, 2006 - The Golden State Classic
California Speedway
September 16-17, 2006 - Oktoberfest
Buttonwillow Raceway Park
October 14-15, 2006 - Jeff Saltman Memorial Race
Las Vegas Motor Speedway
November 11-12, 2006 - Big Bore Bash
Willow Springs International Raceway
For complete information on these races, please visit VARA Racing.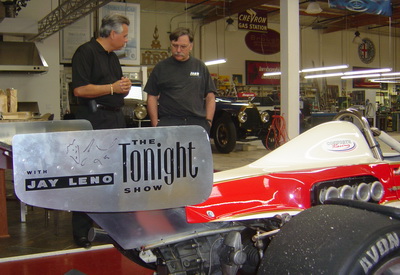 Alfred DiMora and Bernard Juchli discuss modifications done to the Chevron racecar.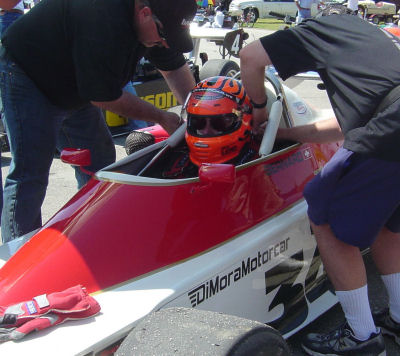 Dave Killackey adjusts Bernard's safety harness prior to his race in the British Extravaganza at Buttonwillow Raceway on April 30.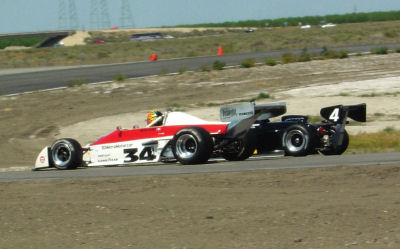 Bernard duels with Dan Longacre going into the hairpin turn at Buttonwillow.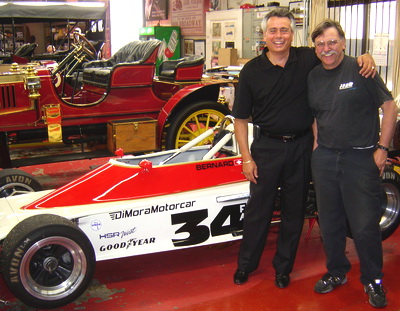 Alfred DiMora and Bernard Juchli are pleased with the new paint job on the Cosworth-engine racecar.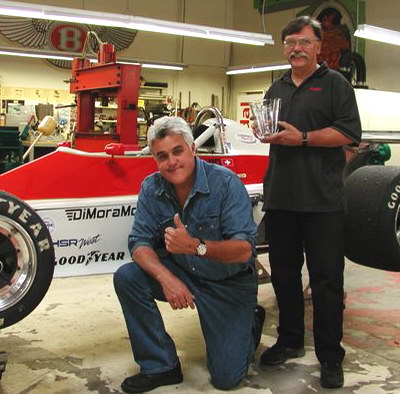 Jay Leno and Bernard Juchli at the Big Dog Garage.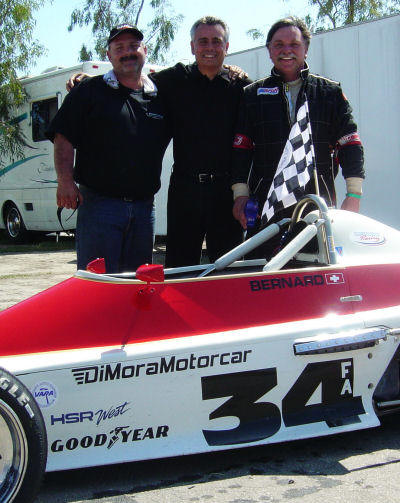 Dave Killackey, Alfred DiMora, and Bernard Juchli celebrate his win in the FA Class at Buttonwillow.