I fell for the British invasion when it hit, and in particular for the British cars of the '50s and '60s. As the West Coast Advertising and Public Relations Manager for Jaguar Cars, Inc., and later at Hornburg Jaguar, I got to live the dream of driving hundreds of them from the late '70s into the new century.
This should have been sufficient, but I had always wanted to own an XK and an E-type. However, I couldn't rationalize it, already having a company Jaguar and a stable of new press Jaguars to break in.
Eventually I came up with a plan that cleared my conscience: I would refurbish older XJ6 sedans until I cleared enough money to buy the sports cars I desired. After several XJ projects and sales I was able to buy a couple of E-types. I improved and sold them too.
I finally found a keeper in 1988: a white 1956 XK140. This is the OTS model (Open Two Seater), the sportiest XK since it does not have roll-up windows. Instead, these cars have removable side curtains. When I replaced them I used glass rather than the original Plexiglas. The glass provides better vision and looks richer. The body has aluminum doors, bonnet, and boot lid, keeping the weight under 3,000 pounds.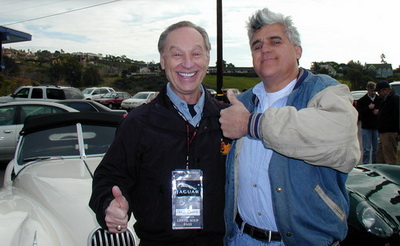 James Groth and Jay Leno are both proud XK owners.
The XK is powered by a twin-cam, 3.4-liter six producing 190 hp. These motors are renowned for being stout, having won numerous rallies and races, including Le Mans five times in the '50s. If I can locate a C-type head, as used on the Le Mans-winning racer of that designation, the car would develop 210 hp. The next upgrade will be a pair of sand-cast, 2-in. carbs like the ones on some C-types.
Most recently I have gone through the entire suspension, replacing the bushings, ball joints, shocks, and rear leaf springs. One of the biggest improvements came after years of searching. I located period radial tires for the narrow, 16-inch wire wheels. Rather than chrome wire wheels, my car has the painted ones, which I prefer. I believe painted wires are true to the sprit of the model and have a more period look.
I use this XK140 for weekends and rallies. After the upgrades I entered a Malibu rally, where my car caught the attention of fellow XK owner Jay Leno. He has a highly modified XK120, and sought me out to learn what I had done to improve my car. You know the phrase, Happy Motoring. That was me that day!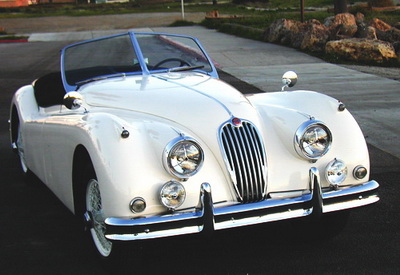 The Jaguar XK series won The 24 Hours of Le Mans in 1951, 1953, 1955, 1956, and 1957.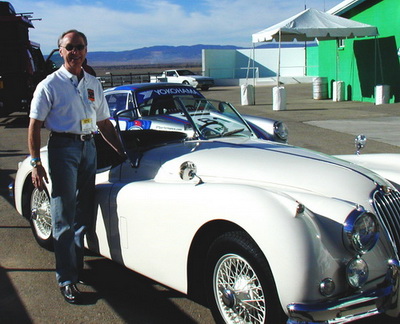 James Groth stands proudly beside his XK140.
# # #